Want to know which of our Macks are the best fit for your hair,
style, and personality? Try our quick matchmaking survey!
---
Heather Mack
With close to 30 years in the beauty industry I have been blessed by helping clients achieve their hair goals. I have met the most amazing people in this industry. Whether it was a client or a mentor, I have made many lifelong friends along my journey which began in Colorado. After my husbands career brought us to Texas it was easy for us to choose Hutto to plant our roots. We love the sense of family this community offers. We have four children and an amazing grandson.
It was the Hutto community that inspired my husband, and business partner, and myself to open our own salon affectionately branded as H. Mack and Co.
Opening H. Mack and Co. allowed me to express myself with everything I love about my career. I've always specialized in hair color by educating myself about the latest products and techniques. Although I love transforming my clients, it is developing the stylists who have become part of the H. Mack Co. family that truly fulfills my dream of being an owner. I've had amazing mentors dotted throughout my career. I find great reward using the leadership and business skills I've received to help our stylist achieve their own career goals. You'll enjoy a modern, relaxing and professional experience right here in the heart of Hutto.
Megan Vitale
Megan Vitale
I was born and raised right here in Austin, TX! I have always been a creative person so I knew I wanted to do something to help my creative mind blossom! I have always been in the hair world considering my uncle has been a hair stylist for almost 30 years and I was always fascinated watching him cut my hair! Here I am a few years later living the dream, doing what I love and being creative everyday!
When I'm not working, I love spending time with my family, friends and my wonderful boyfriend. I enjoy spending time outdoors and eating at all the local hot spots around Austin! A little fun fact about me is that I have a fraternal twin sister!
I'm so grateful that I get to live out my passion everyday!
Nydia Johnson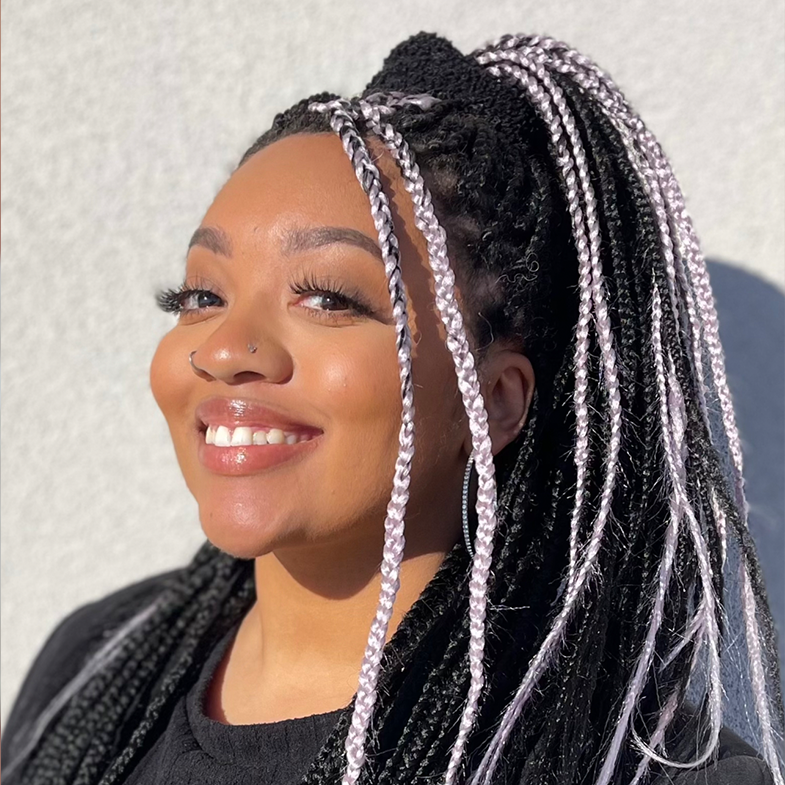 Nydia Johnson
I've always known from a very young age that I wanted to be a stylist. It was inevitable as I was always the kid who couldn't stop asking to play in everyone's hair. In the time I've been licensed, I've become a Redken Artist, a Redken Specialist, and a Redken Color specialist! I have an intense passion for not only educating my teammates, but my clients as well. I can't imagine myself doing anything else.
Growing up having both parents in the military, and having to travel a lot, I was introduced to so many new and amazing people daily, which made me an extroverted person. Everyday I looked forward to a new conversation and learning or teaching something new!
That is what I love the most about this career. The way you can spend just a short amount of time with someone and then change their day for the better is easily one of the best feelings in the world.
Marissa Guerrero
Hi, I'm Marissa! I grew up in Pflugerville/Round Rock. I've been married for 2 years, together for 10, and we have a Bully together. I enjoy all kinds of art and recently got back into reading.
I'm not the most talkative, because I talk with a stutter. My stuttering makes my job challenging at times, but it pushes me out of my comfort zone. I take a lot of pride in my work and do my best to make your hair dreams come true. The more we get to know each other, the more I open up. No matter what I want my clients to feel comfortable in my chair, whether you're loud and outgoing or quiet and shy.
Amanda Rivera
Amanda Rivera
Hi there! Born & raised in TX, I've explored many cities here. But I knew Austin would be the perfect place for me, my fiancé & fur babies to call home! This beautiful city continues to have my heart even after living here for 10 yrs.
I'm a very outgoing & bubbly people's person who loves to travel, meet new personalities & make memories with my friends & family! Working many years in management has given me a passion to inspire & lead others in a positive & professional aspect. I love everything about the beauty & hair industry! So being a part of H. Mack & Co. as the salon director thrills me to my core. Your experience with us is my main priority & I look forward to meeting you!
Camila Higuita
Hi there my name is Maria Camila! I'm the type of person that loves to do things hands on which is why doing hair has always been fascinating. Being a cosmetologist means that no day will be the same. Every client has different hair goals and I get to bring those to life.
The most rewarding part is that I get to see the confidence my clients get once they leave my chair. I believe that to many hair is just hair but my personal goal is to change peoples perspective about this industry, because your hair can speak for itself. Can't wait to meet y'all!
Zoe Hopwood-Mack
Hey y'all I'm Zoe! You might've seen me as the receptionist these last 3 years but now I am a full time stylist! I have grown up in this industry along side my mom, and I'm excited to continue to grow up in this industry!
I have a sweet puppy named Finnley who is the cutest little girl ever. I'm supported by my three brothers, my mom and dad, and my wonderful boyfriend. I was a competitive cheerleader and a high school cheer leader at Hutto High school where I graduated from in 2021. I can't wait to have y'all in my chair. See you soon!
Alexa Jones
Hi I'm Alexa I'm originally from HTX. I moved to Austin, TX in 2019 and love it here! I have always loved the beauty industry and being creative! I love making people feel beautiful and putting a smile on their face after a service!
Something that I love to do outside of work that is therapeutic to me is going for runs. I have a baby shihtzu named Mieko he is my world! I can't wait to see more beautiful faces in my chair!
Lindsey Carlson
Receiving my Cosmetology license, I took on hairstyling to explore my passion for art and creative freedom. After graduating I spent a year under mentorship of a master stylist and salon owner to further my knowledge of the salon experience.
I'm from Louisiana and Texas, I love to pass the time by watching Real Housewives, hiking, drinking at the lake, and playing Switch.
Pearl Hamilton
Hi everyone! My name is Pearl and I live up to my fun loving name! I was born and raised in Texas. I love to travel. I am a sister to three brothers. I decided to go into Cosmetology because of my mom and I enjoy doing makeup and hair. I love learning new trends about hair and makeup! I enjoy making my clients feel beautiful. I cant wait to see you in my chair and make you feel beautiful!
Kaslynn Looney
Hey, I'm Kaslynn! I grew up in Texas. I was born in San Antonio but have lived in Austin the majority of my life! As long as I can remember, I have loved all things beauty and art such as painting. After graduating from Round Rock High, I decided to combine my two passions to pursue my dream career.
When I'm not behind the chair, I love creating all types of art, hanging with my friends/family, and being adventurous! Something fun about me is, I absolutely love Pamela Anderson!! I love her strength and she reminds me what I am capable of!
I'm so happy to be part of this team where I can grow and live out my passion of being creative!
Cat Kerr
Hi, I'm Cat K. I am originally from NC but graduated from Pflugerville. I have two daughters that are my world. In my free time I am with my daughter watching her at cheer. I also love attending classes to stay current on hair techniques.
I have been doing what I love for 10 yrs! What I love most about doing hair is coloring. We get to be so creative with color and the techniques available. You can go bold and bright or subtle with less maintenance. I love seeing a guest smile when I've created the look they have desired.
I look forward to meeting you soon!